Have you purchased a subscription/scholarship to AnkiHub yet? You need a account + subscription to gain access to the decks
Thanks for the explanation.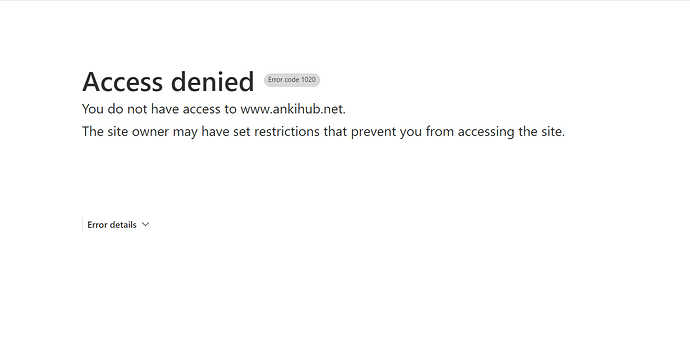 When I try to access the website this page comes up. That results in Ankihub add-on not being able to download any decks from ankihub servers. I tried this for hours but if this is really not the case, I will gladly make another topic. Thank you so much.
Hi. Thanks for the explanation.
I checked https://app.ankihub.net/ and it didn't have the same problem.
The decks don't get downloaded though. I checked with a deck that only had one 1 note and it doesn't get downloaded either. The message of downloading appears but it doesn't work. My connection is well and I can watch videos online etc.
Anki app works fine and it can download other add-ons or update itself.
Yeah. I have an account and a subscription to Ankihub.
Can you please give us some more details so that we can try to help you out?
What exactly did you try?

Give as many relevant details as possible.

What deck did you try to download and what steps did you take to download it?
What was the message that appeared? Did you get any errors messages?
What were your expected results?
How did the actual results differ from your expectations?
I checked it again today and it did work today!
I want to thank you and all the team and I want to say that I appreciate your work.
Would you also get the Access denied problem solved? I mean for "www.ankihub.net".
Thanks again