Can you check if you have protected the text or extra fields? (there should be no check marks next to text or extra)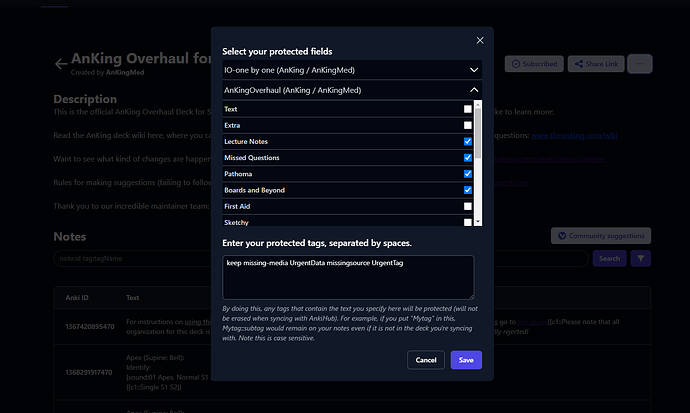 Also do the following:
Unsubscribe to the deck on the ankihub addon → unsubscribe to the deck on the ankihub website → resubscribe again on the website → press sync on anki → that should fix it.
I tried the above. No box was checked, unsubscribed, and then re-subscribed. I still have 20 cards.
Can you go to browse, click on decks on the left side and find AnKing Overhaul, then check how many cards it says it has at the top?
You are in the tags section, try scrolling up on the left till you "decks" and then click on Anking overhaul.
This is odd… @TheAnKing do you know what might be going on?
Can you unsubscribe and resubscribe on the addon? It should trigger a full download of the deck
I resubscribed. I see the subscription on the web and subscribed AnkiHub. However, it does not show up in my Decks.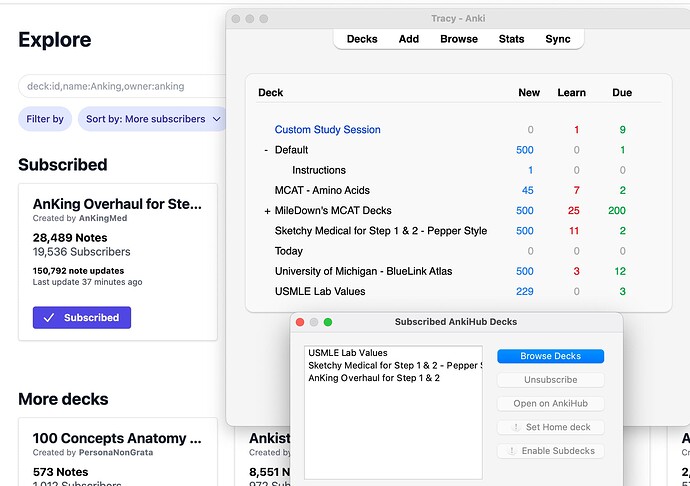 Is there anything in your default deck? If not you can just rename it to "AnKing Overhaul" and use it as so