I cannot see "anking overhaul for step 1 & 2 " deck on my mac desktop anki app
Can you please provide more information on the steps you performed to get there?
Please follow this FAQ for more information on how to download
Also check this AnKing deck wiki out for more information on other questions
I just subscribed to Ankihub
Updated to the latest version of anki
added the add-on "ankihub"
now that Im trying to merge the decks, is not showing on my mac
Did you subscribe to Anking Overhaul for Step 1 and 2 on AnkiHub? AKA does it show a purple subscribed button like this: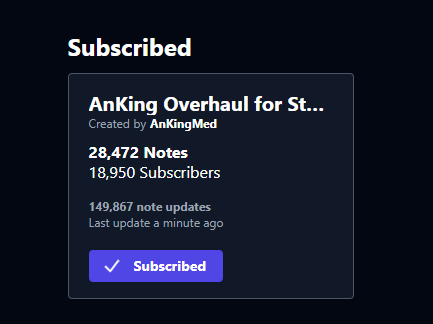 Then after this, did you go to sync on AnkiHub addon and click on it? It should prompt you to download the deck, keep in mind it might take a long time depending on your internet connection
Can you go to browse → tags → #AK_Step1_V12 and take a picture of what you see, perhaps the cards are all suspended?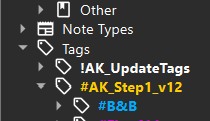 Okay thats odd
Can you go to the ankihub addon, press on Anking overhaul, click on unsubscribe. Then go to the AnkiHub website, go to Anking overhaul and unsubscribe there as well.
Then subscribe again on ankihub, and press sync (you can quit out of anki and open it again if nothing is popping up)
Let it download initially again
Oh that is your issue, you need to press upload!
Also the number is increasing it went from 1 to "54" but it still does not contain a dropdown of all the different sections

Try redoing those steps but press upload to AnkiWeb when that popup comes
Okay go to browse and press on the AK step 1 tag again, in the top left how many cards do you have?
There you go! All the cards are there now!
Sorry, for the back and forth… SO how do I view all of them? Because there is no drop down ?
Because my old version of Anking had dropdown for example. cardio… resp…
All good no worries!
There is no subdeck support anymore, everything is through tags

All the cards in the deck can be accessed through the tags, you can suspend the entire deck then unsuspend as you go through resources/UWorld questions etc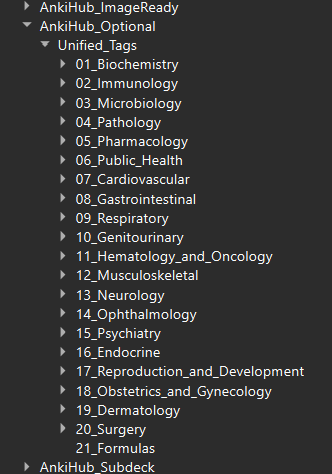 you can also download the AnkiHub unified tags optional tag option if you dont like the tags present currently